FILM IN FOCUS: PSYCHOANALYSIS AND CONTEMPORARY CINEMA
LONDON CENTENARY CONFERENCE – OPTIONAL TICKETED EVENT
Sunday 21st of July 2019 : 2:00pm – 6:45pm
Psychoanalysis has a longstanding relationships with scholarship in film and media studies, and many of the greatest works of cinema have been brought to life by analyses that draw on the rich seam of Freudian and Lacanian ideas especially. In this special afternoon event, the International Journal of Psychoanalysis is proud to showcase novel psychoanalytic approaches to contemporary film and television. Bringing together leading scholars, filmmakers, and clinicians, each session consists of a conversation informed by both psychoanalytic ideas and their application to the study of film and its meanings for viewers. There will be three sessions taking place. In the first, the focus is on how Wilfrid Bion's contributions to psychoanalysis are shaping new approaches to thinking philosophically about film. There follows a further session on how cinematic representations of "race", ethnicity, and trans* identities are changing our understanding of how cinema speaks to broader social and political categories of identity and experience. Finally, the event will close with a special screening of Josh Appignanesi's film, Female Human Animal. Josh will be in conversation with psychoanalysts after the screening about the genesis of his film, and there will be an audience Q&A discussion as well.
This special event is open to all and the conversations will be aimed at an informed public, so that there is no need for participants to be versed in either psychoanalytic practice or intellectual research. The aim is to create a series of thought-provoking encounters and to celebrate the rich relationship between film and psychoanalysis by drawing on its most current impulses.
SESSIONS & SPEAKERS:
1.30–2pm             Film event registration
2–3pm                   Thinking Cinema: Bion and Film with Kelli Fuery and Carla Ambrosio Garcia
Chair: Giuseppe Civitarese
3.10–4.10pm       Cinema at the Edge: Skin, Screens, and Subjectivity with Michelle A Stephens and Domenico Di Ceglie
Chair: Sara Flanders
4.10-4.30pm        Break
4.30-5.45pm        Screening of Female Human Animal (UK 2018)
5.45-6.45pm        A Roundtable with Alexis Schreck, Adele Tutter, and Josh Appignanesi in conversation
Chair: Caroline Bainbridge
Please email gessami.guardia@iopa.org.uk if you have any questions or need any assistance.
DOWNLOAD THE CONFERENCE LEAFLET HERE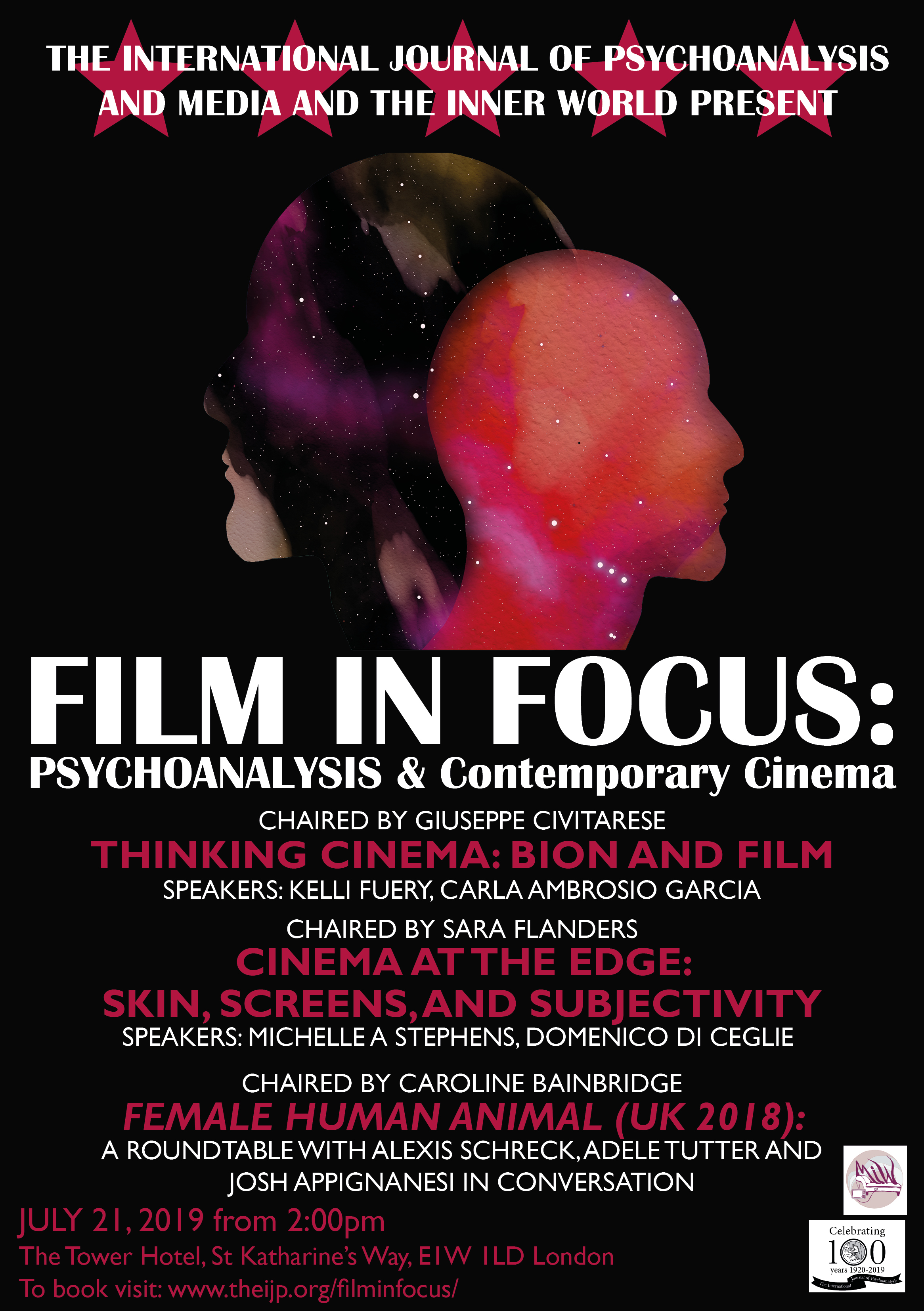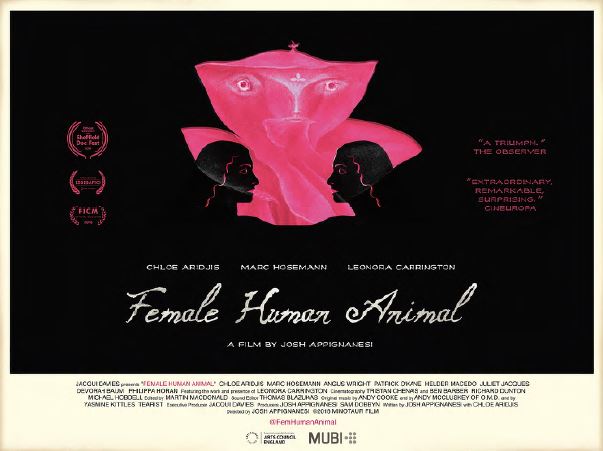 FEMALE HUMAN ANIMAL
Director: Josh Appignanesi. Written in collaboration with: Chloe Aridjis. Cast: Chloe Aridjis, Marc Hosemann, Patrick O'Kane, Leonora Carrington, Juliet Jacques, Angus Wright, Phillipa Horan, Devorah Baum, Stewart Home, Marina Warner, Adam Thirlwell, Tom McCarthy. Exec Prod: Jacqui Davies. 73 Mins, Cert TBC, UK 2018. DCP.
Shot in the real-life contemporary art world, Female Human Animal is a romantic psycho-thriller about a creative woman disenchanted with what modern life has to offer
her.
The Tate Gallery recently staged a retrospective of the surrealist Leonora Carrington (1917- 2011), famously the lover of Max Ernst. Novelist Chloe Aridjis, who knew the artist from her native Mexico, was made guest curator of the exhibition.
Set between the real-life curation of the Tate show and something more fantasised, Female Human Animal sees Chloe increasingly disappointed by her milieu — and increasingly haunted by Carrington's strange artworks. When an elusive, brooding man seems to offer more, Chloe begins to pursue him, but is she hunter, or hunted? Enabled by Carrington's own defiantly mysterious mythology, she descends into a world of obsession.
Shot on a rare '80s video camera with a unique look, and deftly weaving fact and fiction, Female Human Animal is a darkly romantic fantasia of a woman who goes beyond societal norms, putting on screen the lurid unconscious of our new sexual politics . Featuring the Volksbuhne's Marc Hosemann, Patrick O'Kane (Game of Thrones) and Angus Wright (Peepshow), cameos from cultural figures like Marina Warner, Juliet Jacques, Stewart Home, Adam Thirlwell and Tom McCarthy, and new music from Andy Cooke, Yasmine Kittles and iconic band O.M.D., Female Human Animal also pays homage to its guiding feminist spirit, the striking artist and writer Leonora Carrington.
Giuseppe Civitarese
Giuseppe Civitarese, MD, PhD, is a training and supervising analyst of the Italian Psychoanalytic Society (SPI). He lives and is in private practice, in Pavia, Italy. He has published several books, which include: The Intimate Room: Theory and Technique of the Analytic Field, London, 2010; The Violence of Emotions: Bion and Post-Bionian Psychoanalysis, London, 2012; The Necessary Dream: New Theories and Techniques of Interpretation in Psychoanalysis, London, 2014; Losing Your Head: Abjection, Aesthetic Conflict and Psychoanalytic Criticism, Lanham, MD 2015; Truth and the Unconscious, London 2016; An Apocriphal Dictionary of Psychoanalysis, London 2019; Sublime Subjects: Aesthetic Experience and Intersubjectivity in Psychoanalysis, London 2018. He has also edited The W. R. Bion Tradition: Lines of Development—Evolution of Theory and Practice over the Decades, London 2015 (with H. Levine); and  Bion and Contemporary Psychoanalysis: Reading A Memoir of the Future, London 2018.
Kelli Fuery
Kelli Fuery, Ph.D is Assistant Professor of Film Studies at Dodge College of Film and Media Arts, Chapman University, California. She has published books and numerous papers in the fields of critical theory, visual culture, and psychoanalysis. Her most recent book is Wilfred Bion, Thinking and Emotional Experience with Moving Images (Routledge 2018).
Carla Ambrósio Garcia
Carla Ambrósio Garcia, PhD, completed her doctorate in Film Studies (funded by Fundação Ciência e Tecnologia in Portugal) at King's College London. She is the author of Bion in Film Theory and Analysis: The Retreat in Film (Routledge, 2017) and her articles on film and psychoanalysis have been published in academic journals and edited collections. Currently she teaches at King's and the University of Bedfordshire. She is also an artist filmmaker, working primarily with 16mm film.
Sara Flanders
Sara Flanders received her doctorate in English Literature at the State University of New York at Buffalo. She has worked at Brent Adolescent Centre since 1989 and also works as a psychoanalyst in private practice. She is a Fellow and Training Analyst with the British Psychoanalytic Society. In addition to editing 'The Dream Discourse Today' in 1993, she edited 'Reading French Psychoanalysis' in 2010 with Dana Birksted-Breen.
Michelle A Stephens
Michelle Stephens, Ph.D., is  a psychoanalyst and Dean of the Humanities at Rutgers University, New Brunswick. Originally from Jamaica, West Indies, she graduated from Yale University with a Ph.D. in American Studies. Among other works, she is the author of Black Empire: The Masculine Global Imaginary of Caribbean Intellectuals in the United States, 1914 to 1962, (Duke University Press, 2005), Skin Acts: Race, Psychoanalysis and The Black Male Performer, (Duke, 2014), Archipelagic American Studies, co-edited with Brian Russell Roberts, (Duke, 2017), and the exhibition catalog, Relational Undercurrents: Contemporary Art of the Caribbean Archipelago, co-edited with Tatiana Flores (Duke, 2017). She is a graduate of the Licensure Qualifying Program at The William Alanson White Institute. She is currently working on 2 monographs, "Playing in Darkness: Black Feminism, Psychoanalysis & American Culture" & "Insular Encounters: Islands, Archipelagoes & Questions of the Real."
Domenico Di Ceglie
Domenico Di Ceglie M.D. Dip.Psychiat (It), FRCPysch. Lifetime Honorary Consultant Child and Adolescent Psychiatrist, at the Tavistock Centre, London.  Founder and Former Director of the Gender Identity Development Service (GIDS) at the Tavistock & Portman NHS Foundation Trust- London.  Honorary Senior Lecturer, Department of Clinical, Educational and Health Psychology, University College London.  Docente, Scuola di Specializzazione in Psicologia Clinica, La Sapienza University, Roma. Honorary Doctor of Education (Honoris Causa) University of East London. WPATH Emeritus member.
Previously Consultant Child and Adolescent Psychiatrist in the Adolescent Department, Tavistock Clinic; Honorary Senior Lecturer, The Royal Free and University College Medical School, London; Visiting Professor in Adolescent Psychiatry, University of Perugia, Italy (1992-1996); Psychotherapist (retired) Lincoln Centre for Psychotherapy, London. Previously Member of the Tavistock Society of Psychotherapists.
He has a longstanding interest in adolescence and has worked in adolescent in-patient units.  He has been widely involved in consultative work to organisations and to professional networks.  He has been Organising Tutor of an MA course accredited by the University of East London in Adolescent Mental Health for professionals.
In 1989 he founded a specialist service for children, adolescents and their families facing gender identity issues at St. George's Hospital, London, now based at the Tavistock & Portman NHS Foundation Trust. He has been service Director until March 2009. The GIDS provides a multi-disciplinary service countrywide, consultation, training and research and has been nationally designated and funded.  He has developed models of care and treatment for children and adolescents with gender variance and dysphoria and has been involved in research projects.  He has widely published papers about his work and edited a book "A Stranger in My Own Body – Atypical Gender Identity Development and Mental Health" (Karnac Books, London, 1998).  He was highly commended in the Health & Social Care Awards, 2004. He gives frequent lectures worldwide.
Caroline Bainbridge
Caroline Bainbridge is Professor of Psychoanalysis and Culture in the Department of Media, Culture and Language, where she is a member of the programme team for taught degrees in Media, Culture and Identity, and she also supervises a number of research students.
Caroline is Director of the Media and the Inner World research network which she organises with Candida Yates of Bournemouth University and which was generously funded by the Arts and Humanities Research Council between 2009-13. She has a number of editorial responsibilities, currently working as the Film Section Editor for the International Journal of Psychoanalysis, and as Editor of Free Associations between 2010-2017. She is also a Series Editor (with Candida Yates) of the 'Psychoanalysis and Popular Culture' book list published by Routledge.
Her research interests are in cinema, television,  gender, psychoanalysis, visual culture, the politics of identity, and the emotional turn in popular culture. Caroline welcomes proposals for research at both the MPhil and PhD levels. Read more
Alexis Schreck
Alexis Schreck was born in Mexico City where she has lived her whole life. She has a PhD in psychotherapy and is a training psychoanalyst in the Mexican Psychoanalytic Association (APM). She enjoys teaching and has various study groups as well as formal classes in the Mexican Psychoanalytic Association and the Freudian Society.
Alexis has written many books including her doctoral thesis on the compulsion to repeat, death drive and transference titled: 'La compulsión de repetición: la transferencia como derivado de la pulsión de muerte en la obra de Freud' (Ed: ETM, 2011), 'Mission impossible: how to communicate with adolescents' (Ed: Grijalbo, 2015. Coauthor Martha Páramo Riestra), 'A sexual date with Freud' (Ed: Algarabia, 2018), 'Mitos del Diván'(Ed: otras inquisiciones, 2010. Coordinator)
Adele Tutter
Adele Tutter, MD, PhD is Assistant Clinical Professor of Psychiatry at Columbia University and faculty, Columbia University Center for Psychoanalytic Training and Research and the New York Psychoanalytic Institute. Her interdisciplinary scholarship, focused largely on creativity and its connections to grief, loss, and oppression, has been honored by the APsaA CORST, Menninger, and Ticho Prizes, among many other awards. Dr. Tutter is the author of Dream House: An Intimate Portrait of the Philip Johnson Glass House (University of Virginia Press, 2015), co-editor, with Léon Wurmser, of Grief and its Transcendence: Memory, Identity, Creativity (Routledge, 2016), and editor of The Muse: Psychoanalytic Explorations of Creative Inspiration Routledge, 2017). She is currently completing a second monograph, Mourning and Metamorphosis: Ovid, Poussin, and the Aesthetics of Loss. She has lectured extensively throughout the United States, and currently sits on the editorial board of The International Journal of Psychoanalysis, Psychoanalytic Quarterly, Psychoanalytic Inquiry and American Imago. She chairs the APsaA Artist and Scholar in Residence Committee and is regular contributor of art criticism to the Brooklyn Rail. She is in private practice in Manhattan.
Josh Appignanesi
Josh Appignanesi grew up in London and studied anthropology at King's College, Cambridge. Josh's second feature The Infidel is an indie comedy written by David Baddiel about a Muslim everyman who finds out he was born a Jew. The film stars BBC1 comedian Omid Djalili (The Mummy) and Emmy-winner Richard Schiff (The West Wing), with Matt Lucas. Slingshot produced and Revolver-distributed with 4K+ screen averages on opening weekend, Salt also pre-sold the film across the world, something very uncommon for an indie comedy, including to the Tribeca Festival's new distribution outfit.
His debut feature, Song Of Songs, was an austere psychological dissection of religious desire, starring Natalie Press (My Summer Of Love, Red Road.) International festival success included a special Commendation at the Edinburgh Festival, official selection in Rotterdam's Tiger Awards, and a BIFA nomination. Produced by Gayle Griffiths, distributed by Soda Pictures, it was received with critical acclaim in the UK press.
Josh recently worked with John Malkovich on a Sony commercial. Previous works include a documentary (tx Channel 4) and several award-winning short films such as BBC Talent winner Nine 1/2 Minutes starring David Tennant (Doctor Who), and Wellcome Trust funded, BIFA-nominated Ex Memoria with Sara Kestelman. Josh also founded a post-production company which edited Emmy- and BAFTA-award winning political documentaries.
He has several features in development including Jay Basu's psycho-chiller Within, supported by the UK Film Council, and has a comedy stage play in development with Matthew Lloyd (Duet For One). Josh teaches directing and screen-writing for the London Film School, Met Film School, and Arista, and lectures widely ad hoc.